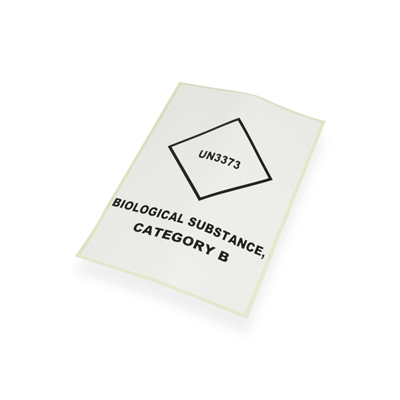 Label UN3373 Internationaal Wit 462340
Quantity
Ex. VAT
Incl. VAT
100
€ 51.71

€ 51.71

In stock

200
€ 43.06

€ 43.06

In stock

500
€ 37.92

€ 37.92

In stock

1,000
€ 36.19

€ 36.19

In stock

2,500
€ 34.50

€ 34.50

In stock
Price per 100 pieces
| | |
| --- | --- |
| Order number: | 462340 |
| Colour: | White |
| Colour: | Black |
| External length: | 150 mm |
| External width: | 100 mm |
| Transparency: | Non transparent |
| P620: | No |
| P650: | Yes |
| UN3373: | Yes |
| Air Transport: | Yes |
| Road Transport: | Yes |
Meet international shipping standards with our Label UN3373, designed for marking packages containing biological substances. Fully compliant with global regulations, this label ensures that your shipments adhere to safety and handling requirements.

Manufactured from premium, weather-resistant materials, our Label UN3373 maintains its integrity under various shipping conditions, providing clear and consistent visibility. The easily recognizable design allows for quick identification, reducing the risk of mishandling and enhancing overall safety. Ideal for medical facilities, laboratories, and any entities shipping biological substances, our Label UN3373 International is your key to responsible and compliant shipping.

Invest in safety and compliance by ordering our top-grade labels today!