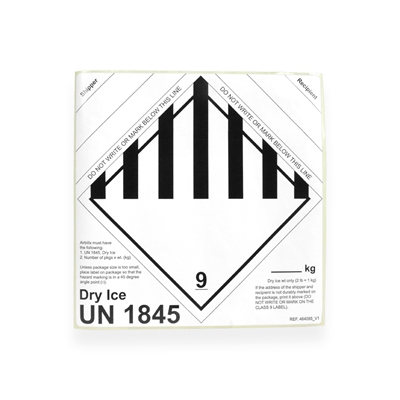 Label dry ice UN 1845 464085
Quantity
Ex. VAT
Incl. VAT
100
€ 51.71

€ 51.71

In stock

200
€ 43.06

€ 43.06

In stock

500
€ 37.93

€ 37.93

In stock

1,000
€ 36.19

€ 36.19

In stock

2,500
€ 34.50

€ 34.50

In stock
Price per 100 pieces
| | |
| --- | --- |
| Order number: | 464085 |
| Colour: | White |
| Colour: | Black |
| External length: | 162 mm |
| External width: | 160 mm |
| Material: | Paper |
| P620: | Yes |
| P650: | Yes |
| UN3373: | Yes |
| Air Transport: | Yes |
| Letterpost: | Yes |
| Road Transport: | Yes |
Introducing our Dry Ice UN 1845 labels, specifically designed to meet regulatory requirements for labeling packages containing dry ice. These labels ensure proper identification, handling, and shipping, providing clear communication of the contents.

Made from high-quality, durable materials, our labels withstand extreme temperatures and resist smudging, fading, and tearing. The bold print and recognizable symbol guarantee visibility, compliance, and safety throughout the shipping process. Ideal for airlines, shipping companies, and industries utilizing dry ice, our Dry Ice UN 1845 labels promote safe handling and are an essential part of any regulated shipping protocol.

Order now to enhance your shipping safety and compliance with our reliable labeling solutions!