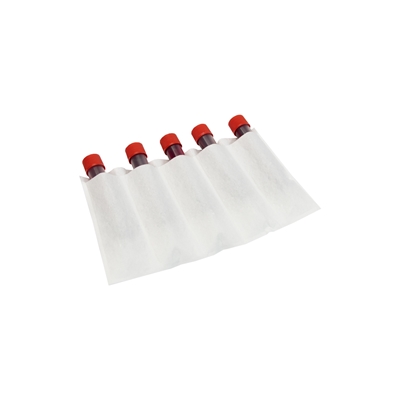 Absorbing tubeholder 5-positions 430750
Quantity
Ex. VAT
Incl. VAT
100
€ 79.76

€ 79.76

In stock

500
€ 66.39

€ 66.39

In stock

1,000
€ 56.26

€ 56.26

In stock

2,500
€ 49.66

€ 49.66

In stock

5,000
€ 45.23

€ 45.23

In stock
Price per 100 pieces
| | |
| --- | --- |
| Order number: | 430750 |
| External length: | 120 mm |
| External width: | 230 mm |
| Material: | polyethylene |
| Number of positions: | 5 |
| Absorbent ability: | 70ml. |
| Header: | 10 mm |
| P620: | Yes |
| P650: | Yes |
| UN3373: | Yes |
| UN2814: | Yes |
Absorbing Tubeholders 1-6 positions

Used as part of packaging requirements for UN3373 when transporting Biological Substance Category B including or Exempt Animal/Human Specimen packaging. The absorbent bay pouch is used as part of the secondary packaging requirements for safe transport that comply with DOT and IATA shipping regulations.

The Absorbing Tubeholders collect leakage if the primary receptacle is compromised. The absorbent pouch acts as a layer of protection, keeping sample tubes cushioned and separated in transit if leakage occurs. Leakage of sample tubes can cause contamination and potentially infection. Therefore, the pouches were developed to contain liquid and provide extra safety at all touch points in the transportation chain and to the lab technicians when received ready for testing at the lab.
• 1, 2, 3, 4, 5 and 6 position pouches available
• Biological Substance Category B or Exempt Animal/Human Specimen packaging
• Absorbent inserts for use with secondary packaging
• High absorption capacity, 14ml nominal per bay
• Keeps sample tubes separated
• Provides cushioning
• The Absorbing Tubeholders can be tailored to individual requirements

Rules and Regulations: UN3373 Compliance
There are strict guidelines that must be adhered to surrounding UN3373 regulations. Regulations state that samples must be packaged and shipped under the remit of UN3373 Biological Substance, Category B. The packaging must contain a primary receptacle for the sample, within a secondary package, within a rigid outer package. There must be an absorbent material within the package to hold the spillage. Absorbing Tubeholders are used as part of the secondary packaging requirement.

To be stored at room temperature (between 5°C - 25°C) in a dry place away from direct sunlight.